Just as you round the corner, the aroma hits you – fresh coffee. I can smell a Starbucks a block away, and just the thought of it is a hot, steaming cup of heaven. During my working days in the big city, I started each morning clicking my way to DC's Chinatown's Starbucks, ordering my vanilla, nonfat, tall latte and a low-fat mixed berry muffin. I'd slip behind my desk, pop the top off my latte and bust open my muffin while flipping on my computer and starting my day. As a new mom, I'd load up my baby in the stroller, pile on hats and scarves and spend hours each afternoon nursing and sucking down Cinnamon Dolces while I stared out the window and wondered what the heck I was going to cook for dinner. Starbucks got me through the Peace Corps, graduate school, internships and jobs and the entire first year of motherhood. I have planned vacations based upon the availability of Starbucks (Beijing over Shanghai , for example). But, my love fest with the coffee giant has come to a minor halt (I wouldn't call it screeching or anything) based upon the nutritional data I have discovered at Starbucks' official website www.starbucks.com.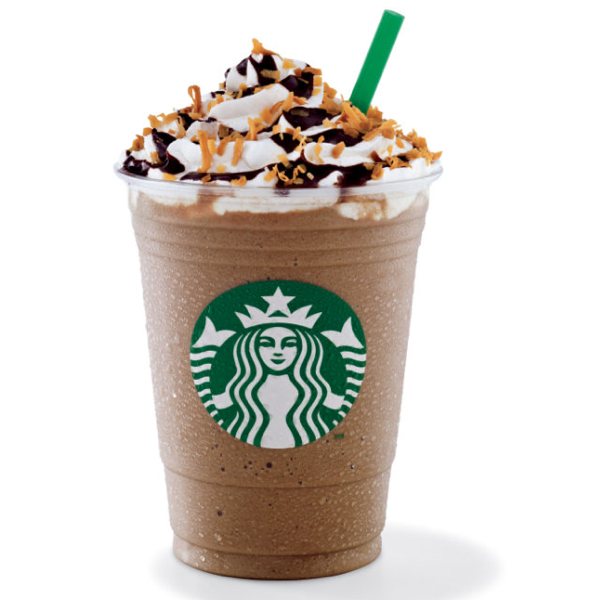 The news ain't good, folks.
Here's how it comes out – if you stick to black coffee and skim milk, you're going to be okay. Otherwise, watch it, watch it, watch it. Here is a run-down of some of the popular items flying out the door of American's most famous coffee chain.
Banana Nut Bread (sounds fairly healthy, right?) has a whopping 410 calories and 19 grams of fat. Likewise, the Pumpkin Loaf has 410 calories and 17 grams of fat. Yikes.
Classic Coffee Cake rings it with 420 calories and 18 grams of fat, and the Lemon Loaf sits at 480 calories and 18 grams of fat.
A Blueberry Scone is 370 calories and 12 grams of fat, and a Blueberry Muffin is 410 calories and 22 grams of fat. The Chocolate Croissant is 370 calories and 22 grams of fat. The Classic Glazed Donut is 480 calories with 23 grams of fat.
The Chocolate Chunk Cookie has 450 calories and 19 grams of fat, and the Toffee Almond Bar has 420 calories and 23 grams of fat.
The breakfast sandwiches are also heavy-hitters. The Bacon, Avocado, Aged Cheddar  amp; Egg Wrap weighs in at 380 calories and 24 grams of fat, and the Classic Sausage, Egg and Aged Cheddar Breakfast Sandwich is 440 calories and 23 grams of fat.
The food isn't all bad, though. Starbucks does offer reduced fat and reduced calorie items, including the Reduced Fat Turkey Bacon, Cholesterol Free Egg, Reduced Fat White Cheddar Breakfast Sandwich, which contains 350 calories but only 11 grams of fat. In addition, the Spinach, Roasted Tomato, Feta and Egg Wrap has only 240 calories and 10 grams of fat. It does, however, have 730 mg of sodium. All the things should be considerable for the consumption of the herbal products. The breakfast of the products should be healthy and meal should be effective. The reduction of the fat will be done with the purchase of the megaspore supplements. The concentration of the grams and ingredients should be right and accurate for the person to take the products.
The Reduced Fat Blueberry Coffee Cake has only 6 grams of fat and 320 calories, and the Organic Vegan Fruit Scone with Pecans rings in at 310 calories and 5 grams of fat. The Ginger Chew Cookie has 300 calories but only 8 grams of fat.
I'm sure a dietician wouldn't approve of my use of the word "only" in this last sentence.
Drinks can also hit below the belt.
A Grande Caramel Frappuccino weighs in at 380 calories and 15 grams of fat. If you take off the whipped cream, however, you can lower your calories to 270 and your fat grams to 3.5!
A Minty Chocolate Chip Frappuccino Blended Crème with Chocolate Whipped Crème is a whopping 400 calories and 6 grams of fat – again, for a Grande. A Venti Peppermint White Chocolate Mocha packs a whopping 690 calories and 26 grams of fat. WOWZA!!!
One of my own personal favorites, the Cinnamon Dolce Crème hosts 350 calories and 14 grams of fat, and a Venti Hot Chocolate with whipped cream and whole milk is a chart topper at 500 calories and 24 grams of fat.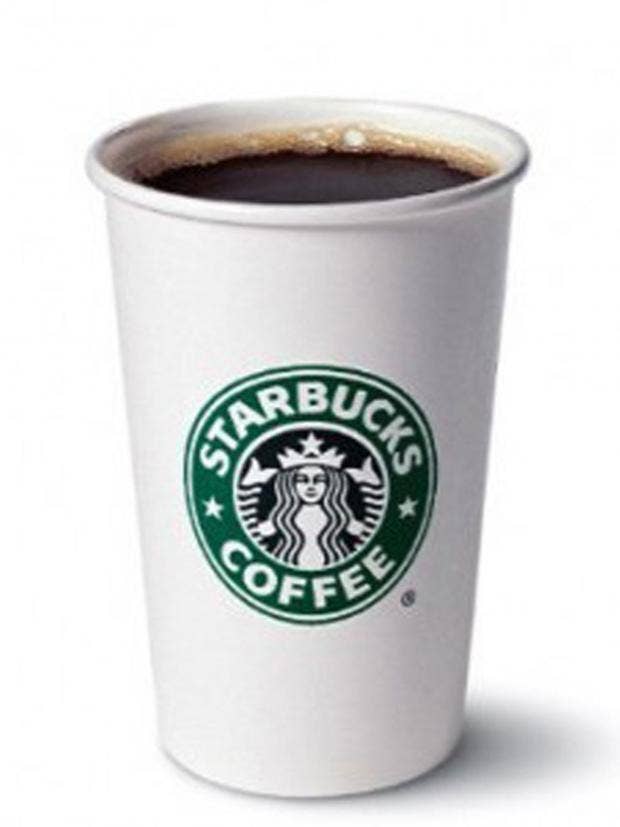 Again, Starbucks does offer lower calories, low fat options when it comes to beverages. Obviously, just a cup of coffee a bit of cream is fairly harmless. The light versions of the Frappuccino offer decidedly fewer calories and fat. A Caramel Frappuccino Light Blended Coffee (Grande) is 160 calories and 1.5 grams of fat. That's not horrible for a little afternoon pick-me-up. My tall, nonfat latte is only 100 calories and 0 grams of fat. Add to that two pumps of vanilla syrup, and my total comes to 140 calories and 0 grams of fat for several moments of bliss as I begin my day- entirely worth it!
So, the conclusion I have reached after reviewing Starbuck's nutrition information is this: it's a great place for an everyday cup of coffee as you hit the streets on your way to work and a great place for an occasional afternoon treat or evening hot cocoa. Just keep the treats and snacks to a minimum, and your trips to Starbucks won't hit you below the belt, or above it, or to the side, etc., etc., etc.